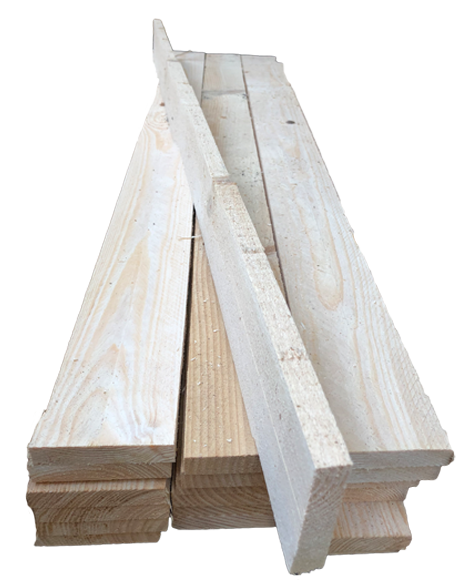 Timber:
Spruce / Fir / Pine / Douglas Fir / Larch / Oak / Birch / Beech / Alder / Ash
Dimensions:
12 x 75 to 22 x 160 mm
Length:
3.00 m – 5.00 m in standard lengths.
0.80 – 1.20 – 2.40 – 3.60 m and individually agreed lengths.
Incision:
One-piece, multi-stalked or sideways.
Moisture content:
Freshly cut, wood moisture> 30%
Technical drying:
18 -20% HF
Thermal treatment:
Heat treatment according to IPPC standard ISPM-15 incl. Stamp and proof.
>> A stamp on every single piece of wood is possible <<
Further processing:
Four-sided planing, leveling, milling of grooves, holes, angled copings (Abbund), wedge-shaped cutting in length, making wedges, div. Profilfräsungen.
Impregnation:
Salt dip impregnation in the colors brown, yellow, green and colorless.
Anti-blueing impregnation colorless.
Boiler pressure vacuum impregnation in the colors brown and green.
Fire protection impregnation (fire retardant) in the boiler pressure process.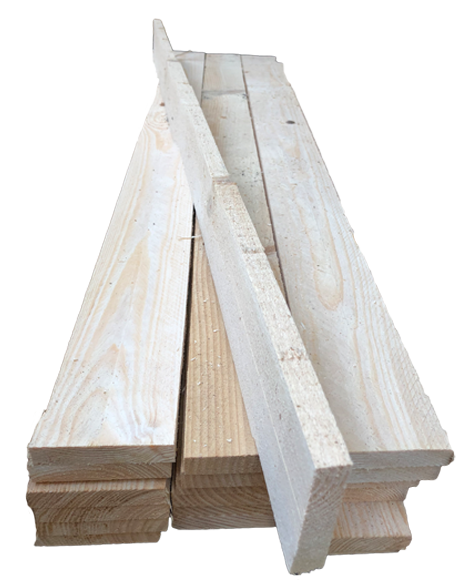 Definition I.choice pallet boards
Bark: not allowed

Lengthwise open cracks: allowed up to 5 cm
Rot and streaks (rotten coloring): not allowed
Fungus / Insect infestation: not allowed
Blue stain: not allowed, respectively permitted to a limited extent only by prior arrangement
Clipped (edges): right angle, exact
Wane : allowed, debarked (!!), max. ½ of the board width to 1/3 of the length, max. 10 mm wide
Tolerances: Thickness and width -0 / + 2 mmLength -2 / +0 mm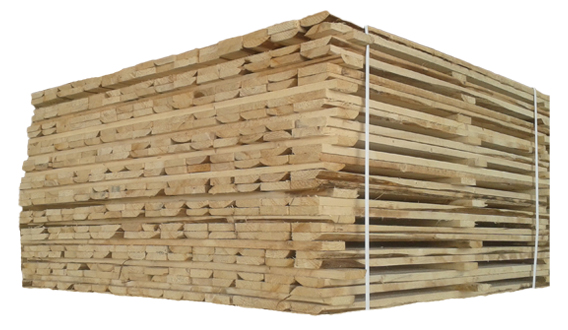 Definition II.choice pallet boards
Bark, Wane: allowed | Debarked up to 2/3 of thickness and 2/3 of length | one side (one length) of the board must have the full thickness and width required
Open splits: allowed up to 15 cm.
Mold and mold streaks (discouleration): allowed but the timber itself has to be tight enough to hold nails and does not break
Fungus/ Insects: not allowed
Blue stain (Blue fungus): allowed
Clipping (edges): right angle, exact
Tolerances:
Thickness and width -2 / + 2 mm
Length -2 / +0 mm
Surface: wavey, but the board has to be still useable for its purpose