Side cuts are defined as a by-product (boards) which is produced "on the side" during the production of a main product (timber, dimension goods). Side products are therefore not specifically produced, but are involved in general production. Therefore it is possible that certain side products are not always available in the desired lengths and dimensions. The classic by-products are boards. Boards are classified according to Tegernseer customs and DIN 68365 in grades.
An important note, however, is that boards which have to withstand static loads must always be classified and produced in accordance with DIN 4074, DIN 1052.In this case, the board is still a board by dimension, but the by-product (side product) becomes a high-quality main product (dimensional product) at correspondingly higher prices.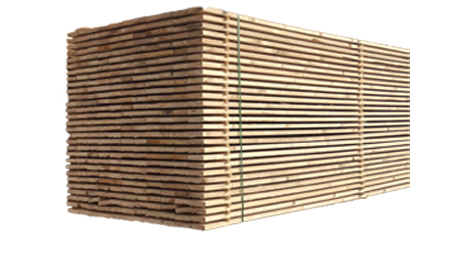 Timber:
Spruce / Fir / Pine / Douglas Fir / Larch
Dimensions:
Thicknesses from 17 to 32 mm, widths from 75 to 240 mm
Lengths:
3,00 – 5,00 m
Cut:
Resulting side product
Moisture content:
Freshly cut, wood moisture> 30%
Technical drying:
18 -20% HF
Heat treatment:
Heat treatment according to IPPC standard ISPM-15 incl. Stamp and proof.
Planing:
Four-sided planing to final dimensions or equalize to the same thickness, various planing profiles (tongue-and-groove, double fold, pork back rounding).
Impregnation:
Salt dip impregnation in the colors brown, yellow, green and colorless.
Anti-blueing impregnation colorless.
Boiler pressure vacuum impregnation in the colors brown and green.
Fire protection impregnation (fire retardant) in the boiler pressure process.