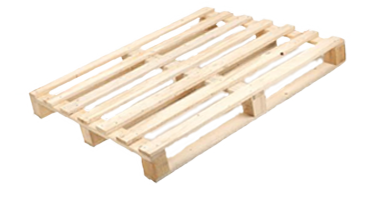 Specification
Kind of timber:
Boards and blocks either genuine softwood, hardwood or mixed
Blocks made out of  chips (Formalinblock).
Pallets produced on automatic lines:
Minimum thickness of boards, 14 mm
Sizes of pallets 600 x 600 mm up to 1500 x 1500 mm
Pallets made/nailed by hand:
Any width, any hight, any length, any construction possible
Moisture content:
green cut (Moisture content > 30%)
Kiln dried:
18 -20 % MC
Heat treatment
Heat treatment according IPPC standard ISPM-15 incl. stamp and certificat
Additional information
On the contrary to multiple-use-pallets and EURO pallets, one-way-pallets are not part of any kind of pooling system. This means they are not ment to go back to the producer, respectively they are not ment to be used twice. They end up as recycling material and / or burning material.