The label "Mass timber" is not found in any standard/guidelines like DIN or EN-Norm. Mass timber means swan timber cut with the same dimension but in huge quantities at one sawmill in one shift. Generally spoken this means mass production with one product. Needed is this kind of production when it comes to roof trusses, glue lam beams, KVH and/or boards for the planing industry. The grading is different, i. e. boards for the palning industry are graded according the Tegernseer Gebräuche while timber for the glue lam, KVH and roof truss industry is graded according DIN 4074 and EN 1052.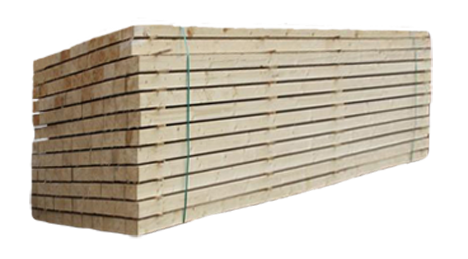 Kind of timber:
Spruce / Fir/ Pine / Douglas Fir / Larch
Dimensionen:
Thicknes 40 mm +; Width up to 280 mm
Length:
3,00 – 12,00 m
Cutting:
Single cut, half cut, cross cut, multiple cut
Moisture content:
Fresh cut, moisture content > 30%
We want to point out, that according to standard ATV-Din 18334 (VOB/C Zimmerer- und Holzbauarbeiten) any timber which is statically loaded (i.e. roof trusses) must be kiln dried with a moisture content of max. 20%
Kiln dried:
25% MC, 18 -20 % MC, 15 +/-3 % MC
Heat treatment:
According IPPC Standard ISPM-15 incl. stamp and certificat.
Plan:
Planed 4-sides or only equalized two sides
Impregnation:
Dunk impregnation (salt) with colours brown, yellow, green, clear.
Pressure treatment (salt) with colours brown and green.
Fire-resisting with special additives