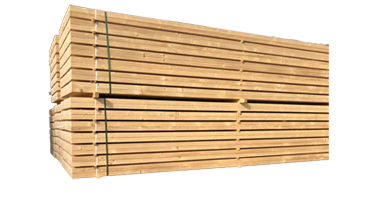 Kind of timber:
Spruce / Fir / Pine
Dimensions:
DIN 68365: 24 x 48 – 40 x 60 mm
DIN 4074/1052 (CE-Latte): 31×51 / 41×62 fresh dimension or 30×50 / 40×60 dry dimension

Lengths:
3,00 – 5,00 m
Moisture content:
Freshly cut, wood moisture> 30%
We would like to point out that sawn timber which is used for static purposes (for example roof trusses), in accordance with ATV DIN 18334 (VOB / C carpentry and timber construction), generally has a wood moisture content of max. 20% is to build.
Kiln dried:
18 -20% MC
Heat treatment:
Heat treatment according to IPPC standard ISPM-15 incl. Stamp and proof.
Planing:
Four-sided planing to final dimension or equalize to the same thickness.

Impregnation:
Salt dip impregnation in the colors brown, yellow, green, clear; Anti-blue-stain impregnation colorless
Pressure treated  in the colors brown, green; fire protection impregnation (fire retardant)